Would you like to own a fascinating and unique username for your social media IDs or game tags? Your wish is now granted. In this read, we've covered the 4 best ways to create and verify unique usernames for your social media sites. To impress your friends more, you can also learn how to create an animated avatar of yourself.
Also, Read | 10 tricky ways to search for anything and everything on Twitter.
Ways to Create Unique Usernames for Social Media Sites
Creating interesting and unique usernames for social media handles can help you establish your dominance among your peers while keep you safe against digital fraud based on common naming conventions. Often, a well-designed username ends up in the trash due to unavailability. Well, that is no longer the case as now you can instantly create and check availability of your captivating usernames using the methods listed below.
Create unique usernames for social media IDs with NordPass
With NordPass, you can generate and verify unique and secure usernames for your social media accounts and game tags in seconds. Follow these easy steps to design one for yourself.
1. Open the NordPass website to access the username generator tool.
2. Next, enter your favorite keywords in the search bar and choose your desired length. You can also click Advanced options to create an interesting name pattern.
3. Click the Generate button to display the list of interesting username suggestions.
4. You can also click on the username of your choice to instantly check its availablity on different social media platforms.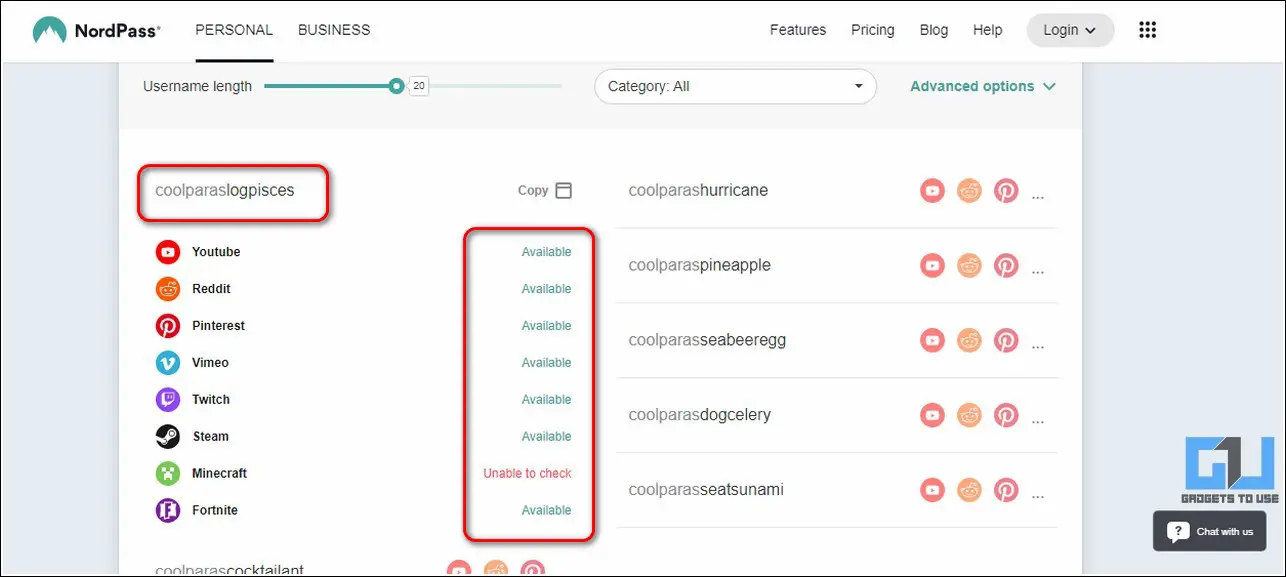 Equip yourself with an awesome username using the SpinXO name generator
SpinXO is another unique website that can help you get your next fascinating username for your social media accounts. Moreover, it also offers you to create captivating usernames for platforms like Instagram, YouTube, Gaming Tags, etc.
1. Open the SpinXO website and click on the Username tab to access the name generator tool.
2. Next, enter the required details such as a nickname, hobbies, important words or letters, etc. to help the tool generate your new username. Click on the Spin button to generate your new username.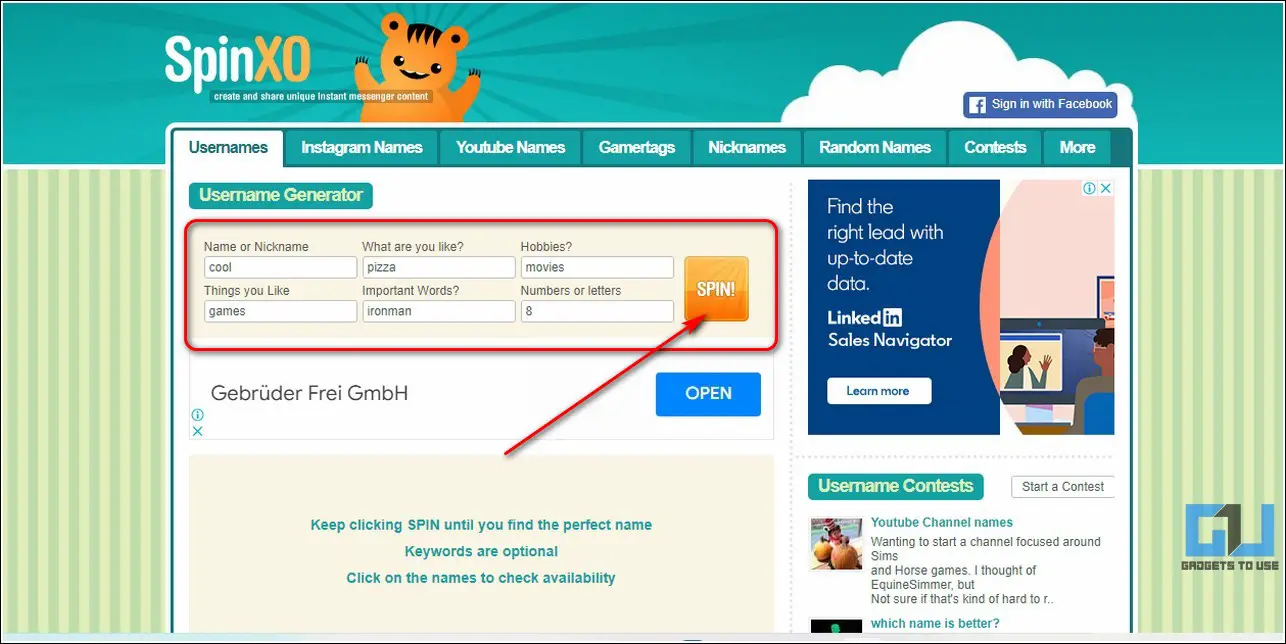 3. Now you can view the list of cool usernames that you can use for your social media IDs. To check its availability on different social media platforms, click on your username.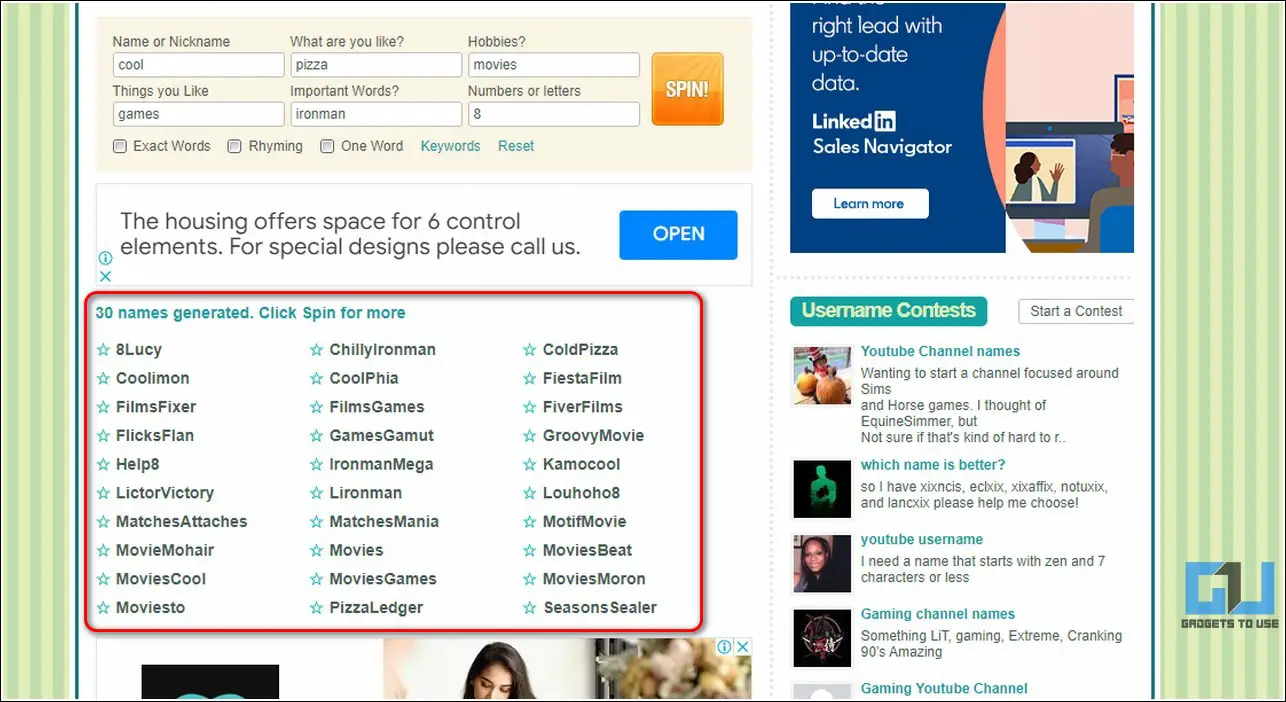 4. Next, click on the Check availability button to view the username availabilities of your chosen username.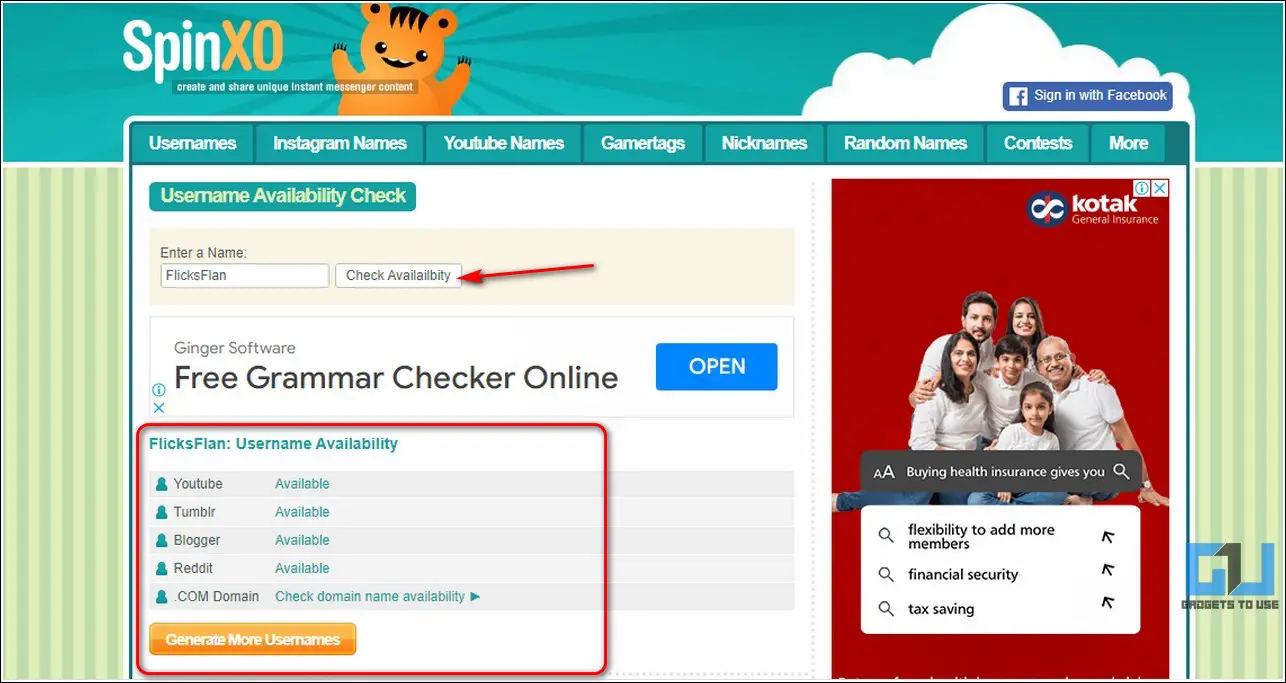 5. Similarly, you can create cool usernames for Instagram and YouTube by clicking on their respective tabs.
Brighten up your username by adding prefixes and suffixes
If you don't want to use a name generator tool and have decided to create an interesting username yourself, we have several nifty tricks for you.
Use short prefixes
Adding certain prefixes to your username can instantly increase its impact. You can start by adding a variety of prefixes such as The, I Am, Real, Official, Ask, and even acronyms. For example, @TheParas, @RealParas, @OfficialParas, @AskParas, @PRparas, etc. Some of the common prefixes you can use are shown in the table below.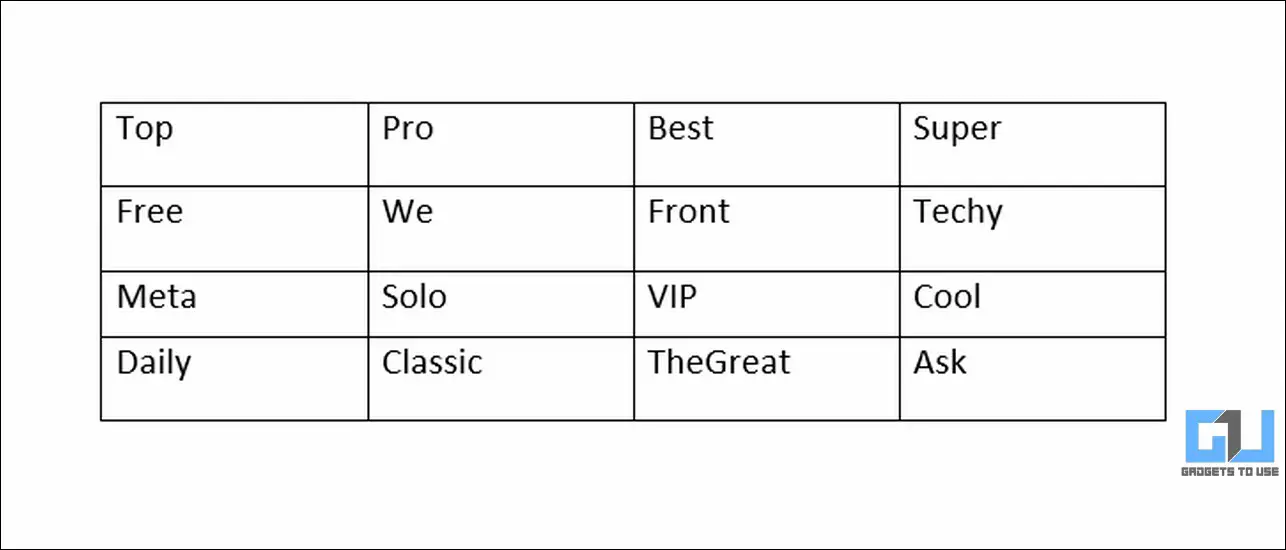 Use interesting suffixes such as headquarters, initials and domain names
Similar to prefixes, you can add a suffix to your brand name or username to make it more interesting, like @parasHQ, @parasPR, @parasdotcom, etc Some of the interesting suffixes are: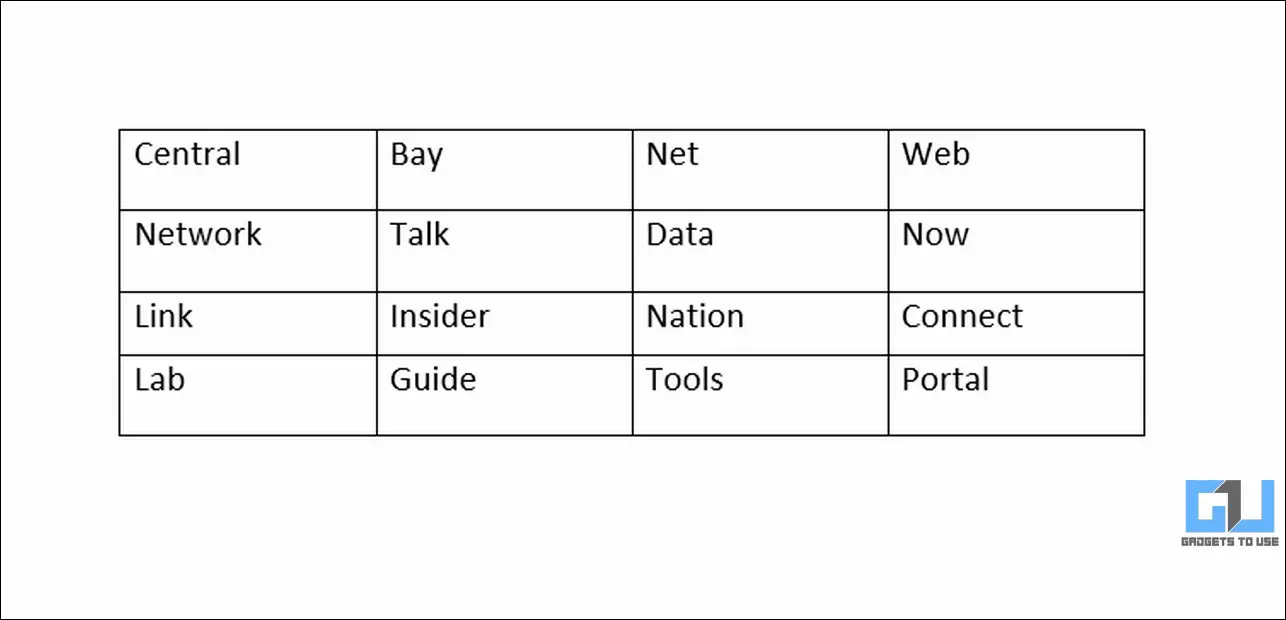 Bonus Tip: Use the NameChecker Tool to Ensure Username Availability
Now that you have learned how to successfully create awesome and creative usernames for your social media profile, you should check it on different platforms for availability. One of these effective tools is called name checker through which you can check the availabilities of your created usernames with a single click.
1. Open the Namechecker tool in your web browser and enter the username you have created or thought of.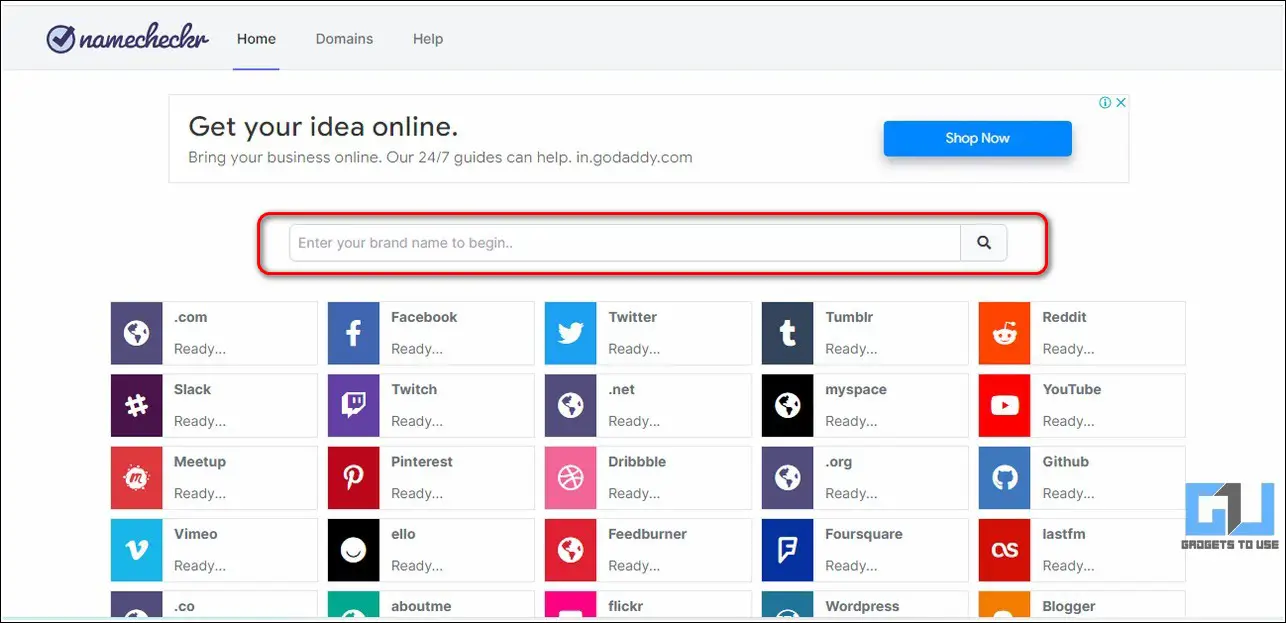 2. You can now see availabilities of usernames on different social media platforms. You can still click on the Load more options at the bottom to load more websites to check the availability of your entered username.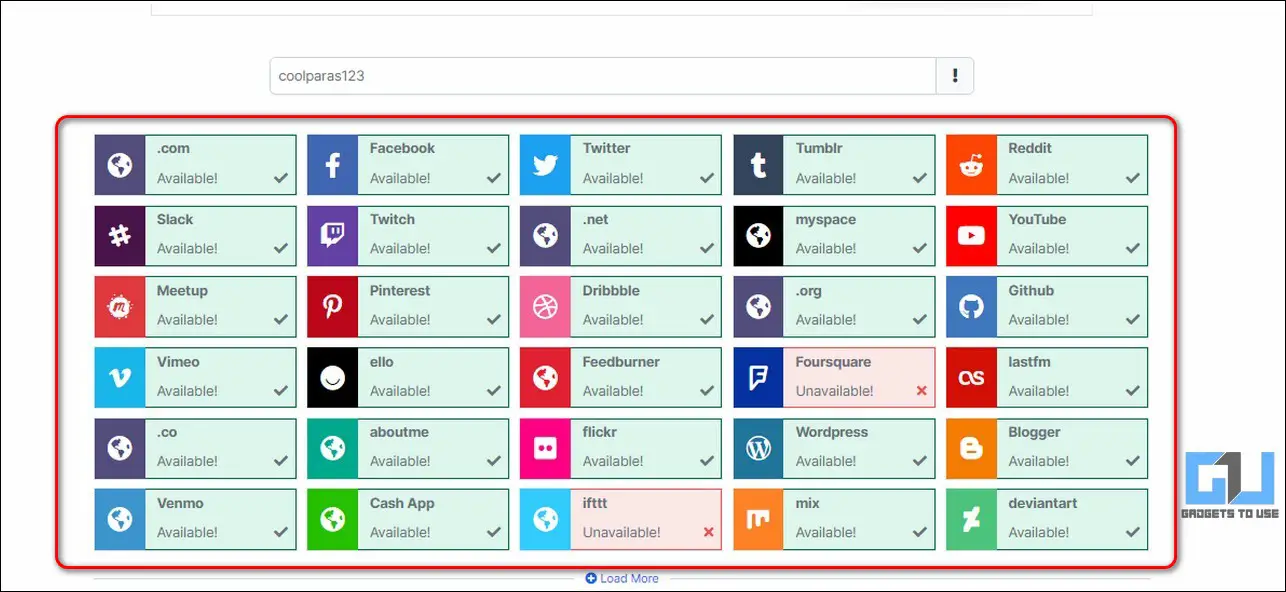 Related | Find out what social media websites know about you
Final Words: Creating Impactful Usernames
So, that's it for the 4 best methods to create and verify unique usernames for various social media websites. If this great read helped you create an impactful username for your social media handles, hit the like button and subscribe to GadgetsToUse for more jaw-dropping reads.
You can also follow us for instant tech news at Google News or for tips and tricks, reviews of smartphones and gadgets, join GadgetsToUse Telegram Group or for the latest review videos, subscribe GadgetsToUse Youtube Channel.