The LRO crew prepare for the Welsh Borders Hill Rally
When you build a racer, you have to give it a shakedown to make sure everything works—and that's exactly what Phil Griffiths and LRO Editor Neil Watterson did this weekend.
Competing in the Welsh Borders Rally from May 27-29, 2022, the pair will take on some of the UK's best off-road racers. And rather than compete in something too exotic, they'll be in a 2003 Land Rover Freelander Td4.
Phil has been working on the Freelander for a few months, improving the most vulnerable parts and bringing it up to standard to survive the competition, where 104km of competitive off-roading awaits you.
Upgrades include a full internal roll cage, bucket seats, fire extinguishers and power cuts along with other safety equipment. All interior trim was removed and the spare wheel was mounted inboard to hold more central weight.
Besides beefing it up, the Freelander isn't far off from factory spec – and there's not much difference in weight between the standard vehicle and rally spec; the weight lost by removing the seats and trim is offset by the roll cage and other safety kits.
The team tested it at a secret off-road site in Cumbria, with the terrain and obstacles hopefully matching the sort of things they'll be up against at the event.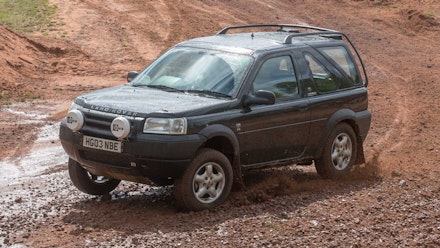 How did it work? This was the first time it had been given the beans and a few snags were found, with the negative battery cable slightly loose on the terminal and the rear muffler housing not being attached securely enough. But that's what testing was for.
Other slight issues were noted and will be resolved in the coming weeks, but overall Phil and Neil were happy with them. Now that the testing is complete, it's time to glue it on – the Hill Rally countdown has begun!