We landed in Liverpool this morning, where we were met by Peter Fagg, who is, to my knowledge, by far the leading Latter-day Saint tour guide in the UK. First, we strolled through the Liverpool docks area where the first missionaries to England, led by Heber C. Kimball of the Quorum of the Twelve Apostles, arrived in 1837. This is also the port from which left most British emigrants to America. 19th and early 20th centuries, and a beautiful life-size sculpture of a Latter-day Saint emigrant family stands there.
Then we went to Preston, where the missionaries had their first significant success and where the oldest historically continuous congregation of The Church of Jesus Christ of Latter-day Saints—Preston Ward—still meets. We searched around Preston, including the market place where the missionaries used to preach and the house on the corner of Fox Street and nearby St. Wilfrid Street where they first lodged. It's empty and abandoned, but it's still standing – and if I had the money to do it, I'd buy it. Why? Because there is a truly remarkable story behind it all – see Peter Fagg's article "A Satanic Attack on Early Missionaries in Preston, England" – and because I'm afraid it will be torn down if anyone does not intervene to save him soon enough. Next, we headed to Avenham Park, a beautiful green space of trees and grass that borders the River Ribble, where the very first Latter-day Saint baptisms in Britain were performed. Several plaques in the park commemorate the early missionaries and the effects of their work.
We then traveled up the Ribble Valley, through the town of Chatburn to the village of Downham. Brother Kimball was told not to concern himself with either village, because the people there were irreligious and ungodly. He went anyway and was phenomenally successful. (This is one of the stories that I hope we can cover, at least to some extent, in the docudrama portion of Six days in August.)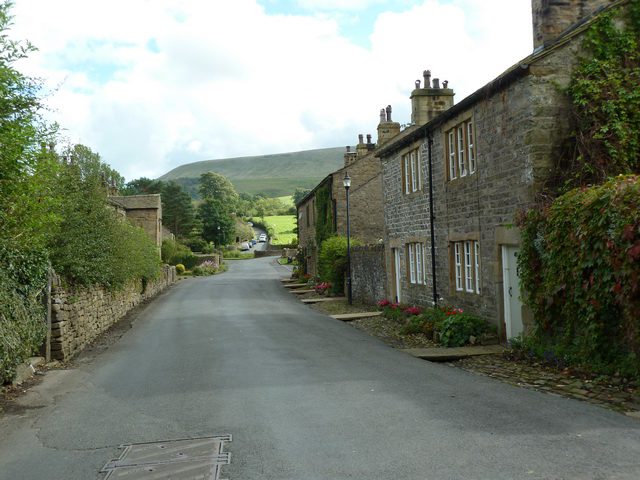 For now, however, I want to focus on another aspect of this particular episode: In April 1838, Brother Kimball was about to return to America, so he returned for a farewell visit to Downham and Chatburn. Their response moved him deeply:
When I left them, my feelings were such that I cannot describe them. As I walked down the street, I was followed by numbers: the doors were crowded by the occupants of the houses to say goodbye to me, who could only express their grief in sobs and broken accents. Looking at this scene, I was forced to take off my hat, for I had the impression that the place was holy ground. The Spirit of the Lord rested on me and I was compelled to bless this whole part of the country.
Joseph Fielding was also there with Elder Kimball:
It was very moving to witness our separation from them. The streets were almost lined with them crying and tending to us. Brother K [Kimball] left his blessing on them and on the whole place, walking without his hat. They all followed us with their Eyes as far as they could see us, many of them even who had not been baptized.
Orson Hyde recalled the experience of the October 1853 General Conference of The Church of Jesus Christ of Latter-day Saints:
What were our feelings? We felt that the ground that we were standing on was most sacred, and Brother Kimball took off his hat, and walked through the streets, and blessed the land and the people, and let his peace come upon him. Why? Because the people were ready to receive the word of our testimony, and we because of Christ.
In 1857 Elder Kimball again recalled that farewell visit:
I walked through the streets of this city feeling like I had never felt in my life. My hair stood on end as I walked the streets, and I didn't know what was happening to me then.
I felt like my whole system was alive; I felt enlivened by an invisible power.
When Elder Kimball returned to America in 1838, he related his experience at Downham and Chatburn to the Prophet Joseph Smith, whose response was intriguing:
You didn't understand it? It is a place where some of the ancient prophets traveled and consecrated this land, and their blessing fell upon you.
Let me try, very briefly, to present some curious background about the region:
Downham sits at the foot of Pendle Hill, which remains famous for the Pendle Witch Trials of 1612. It's certainly noteworthy, but it's not even remotely the full story.
One day, in (I believe) 1652), George Fox went up Pendle Hill and saw what appears to have been a vision of a "people dressed in white, coming unto the Lord", a "great people to be gathered together". This event, and George Fox's reaction, led to the founding of the so-called Society of Friends, better known to most people as Quakerism. John Wesley (1703-1791), the founder of Methodism (which he never intended to be a separate denomination), also visited Pendle Hill and felt unusually moved, spiritually, as he worked in the villages and among the people at its base.
(See "Ribble Valley – Sacred Pendle Hill" by Peter Fagg.)
So Heber C. Kimball may not have just been imagining things when he "felt like the place was holy ground." Even at the beginning of the 17th century, the suspicions of witchcraft seem rather appropriate: Satan always seems to make a big appearance before a new dispensation (for example, at Moses 1, in the Judean wilderness after the baptism of Christ, and just before the first vision of Joseph Smith).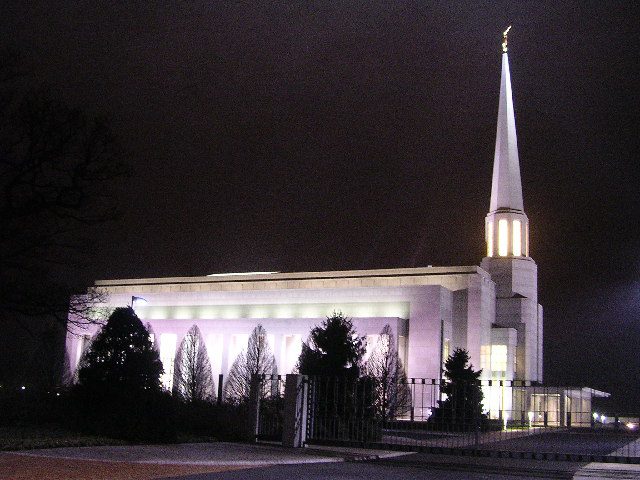 Leaving Downham, we traveled to the striking Preston England Temple, which sits amid beautiful grounds and gardens and a complex of other Church buildings. When Jeffrey R. Holland was United Kingdom Area President, he went into the woods near Downham to pray over the location of the temple, and he was inspired to recommend the site where, in fact, he Is stand up now.
Sent from the Irish Sea